I thought I would share with you a story of the Wedding Planning for one of my April Brides. Lianne Marie is like no other bride I have ever met before, not only does she write the superb
Everything Goes With Toast
, but she professes to be the most "un-bride like person" ever.
Lianne Marie, is also one of my friends, and we have started to refer to her as the "Anti-Bride". Lianne Marie however, to me, is the epitome of having a wedding for yourself, and not conforming to what other people believe that you should do…
First of all we will start with some background.
The first time I met Lianne Marie & Darren. I'm not sure they have a photograph of them together where one or both aren't doing something silly!
How did you and the hubby to be meet?
Darren and I met at a speed dating event in Leeds at
Henry's bar
in January 2009. I knew after 4 minutes of talking to him that he was special and I remember how excited I was when I learned the next day that we had both ticked "yes" after our speed date.

We went on our first date the next week – drinks at
Baby Jupiter
, dinner at
Brown's
and then he walked me to a taxi rank and kissed me on the cheek like a perfect gentleman. I was walking on air the next day and texted him to ask if he fancied a second date.

Here is where I embarrass him horribly – he called me and said that he had already agreed to a second date with another lady from speed dating and wasn't the kind of guy to date more than one woman at a time. Even though I was disappointed, I had to admire his honesty and how respectful he was towards women. He's very close to his mum and sister and I think they have taught him well!
We had made friends on Facebook and parted on good terms, then in June I commented on his "I'm so hung over!" status and he confided that he'd made a stupid decision not to go out with me again and wondered if I'd be offended if he asked me out again. Obviously I jumped at the chance and we had a "second first date" the next week!
How did the proposal happen?
Because saying I Love You is over-rated
It didn't... neither of us are particularly conventional people – for goodness sake we had two first dates, I first told him I loved him by writing it on his face in cake icing and licking it off again in a drunken stupor, we moved in together after only three months of dating... we're not normal enough for a proposal!

We were talking about our future one day and when we wanted to have children, he told me that he'd like to get married first and eventually I agreed. Whilst I'm not against marriage, I and my feminist principles are easily irritated by women who desperately want to get married. If they're in a relationship, in love and want to marry the person they're with then that's a wonderful, beautiful celebration of life and love.
But women who want to get married for the sake of getting married without there being a specific person in the picture I can't really understand – do they settle for the first man who asks? Do they care more about being married than being with the person they're with? I suspect so given the divorce rate is so high.

Personally whilst I'm honoured that Darren wants to marry me, I would happily stay with him without needing the validation of marriage. It won't make me any more committed to him, or make my family accept him any more than they already do so what do I gain? (this is where friends tell me there are tax benefits!) Plus the money people spend on weddings and the stress they go through... I think people can forget that getting married is supposed to be a celebration of the love between two people and focusing on monogrammed napkins just seems trivial in comparison.
What is the ring like?

It's absolutely enormous and worth every penny he paid for it. Of course it's not literally a ring – I asked for a new bathroom instead. I told you we're not normal!
Lianne Marie loves having a bath, their house only had a shower before the Engagement.
Now Lianne Marie has her little blissful happy sanctuary. Diamonds are not a girl's best friend in this case.
That would be Lush and a Bath instead.
Tell me about the Wedding?

The wedding ceremony will be held at
Leeds town hall
in the afternoon and be family only on my side (I have a stupidly big family) and family and close friends on Darren's side (he has a much smaller family and we didn't want it to be lop-sided!). I will be walking down the aisle to David Bowie's The Prettiest Star, we will sign the register to Depeche Mode's Somebody and walk back down the aisle to The Prodigy's Stand Up.

The fabulous, amazing, wonderful Adele will take pictures outside the town hall, and then Darren and I hope to escape for a quiet dinner somewhere without everyone gawking at us.

We will later join all our friends and family for a massive party at
Oracle
in the evening where I have agreed to a first dance (but only because we have a song – Jack Johnson's Better Together) and have spent literally half the wedding cost on a canapé buffet because whilst I don't want a structured dinner with place settings, I do want to make sure people have something to eat (The wedding is costing £2,000 including my dress, the ceremony admin costs, the wedding rings, the photography and the reception food)
I'm not interested in being a princess for the day, in having everyone stare at me or in being the centre of attention. I just want everyone to have a lovely day and be happy and not stress me out by expecting me to fit into some stereotypical bride mould.
Where are you getting your dress from?

I went to Monsoon in my lunch hour, tried on one dress and bought it. It's beautiful and simple, costs £240 and I don't look like a meringue in it.

Lianne's gorgeous dress!
Anything you are doing that you've not known anyone do before?

I think it's more a case of what are we NOT doing that we've known people do before. We're not having a cake, or flowers, or speeches, or bridesmaids or a sit down dinner...

I wasn't even going to have anyone walk me down the aisle because the feminist in me doesn't feel that my father can "give me away" or that I will be Darren's property in any way, but Daddy would cry if I didn't let him! Plus, let's be honest, with the shoes I'll be wearing I don't want to trip up and fall over so having someone to hang onto will be very practical.

(When asked about her shoes she replied "I've not picked them yet – it's harder to commit to shoes than it is to a man for the rest of your life!" but she's looking at Christian louboutin's!)
What are you looking forward to the most?

Truthfully – Adele taking the pictures.
I love Adele more than I can possibly express, she is a wonderful friend and a wonderful photographer. She was there the day I fell in love with him and licked the words from his head (she even took a photograph – among many photographs of us being incredibly drunk that day) and she should be there on the day I promise to love him forever.
I know that despite the simplicity of the day and my stubborn lack of interest in the wedding she will make it all look beautiful and magical. She has been incredibly supportive of me, listened to me and my frustration that ever since we decided to get married it is ALL ANYONE WANTS TO TALK TO ME ABOUT and my frustration that when someone asks me how the wedding plans are coming I say "what plans?" and freak them out by not being a raving bridezilla. It doesn't make me a bad person you know...
Are you going on honeymoon?
Of course! I have loved Paris my entire life and am looking forward to sharing it with Darren. If only I could take Adele with me!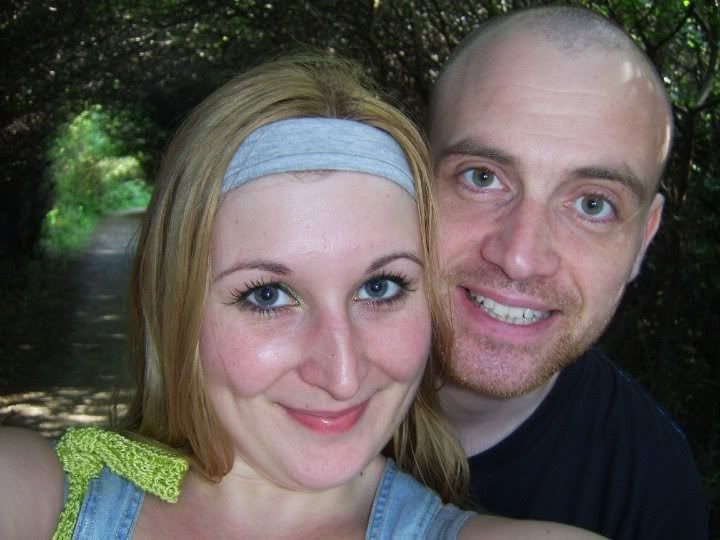 Despite Darren wanting a traditional wedding and Lianne wanting to run away screaming, they've been able to compromise and plan a day that reflects nothing but the fact that they love each other and want to share that love with their families.

It's a no-frills wedding in a funky setting – they even sent out the invites on Facebook, and announced the proposal there to
o.
They are one of the funniest and special couples whom I know and I'm more than delighted to be sharing their special day with them, if only I can stop them from being silly for one minute, or stop Darren getting drunk after two Newcastle Brown Ales so I can get some nice pictures!